Magnets

Our neodymium magnets are encased in a nickel cup to enhance their strength. With two magnets, the product boasts a remarkable power-to-weight ratio exceeding 40:1. Featuring a TPU rubber front, Lochett ensures surface protection and slip resistance, thanks to strategically placed magnets behind the rubber.

Shop

Practical

Lochett effortlessly accomplishes the task on any metal surface or object. Arrange your belongings as you prefer, ensuring easy access on your own terms. Whether it's a one-minute task or a year-long arrangement, Lochett seamlessly enhances your activity for added convenience.

Straps

An adjustable strapping system crafted from a double-layered nylon fabric, in 3 sizes per product. Featuring silicone beading and an injection hook clasp; forming a secure and reliable fastening solution. The soft-to-the-touch quality ensures user comfort, while its remarkable strength offers confident support for Lochett's extraordinary magnetism.

Versatile

Lochett has been crafted to meet the needs of anyone in any situation. Only your imagination can define its applications. We have users from all demographics and occupations utilizing the benefits of our storage solutions.

Shop

Reusable

Lochett is designed for easy transition between objects. Simply release the double-layered nylon fabric strap to reuse it as needed. To detach it from its strong magnetic bond, gently roll it to one side and reuse at your convenience.

Shop

Glow

Lochett' has a glow in the dark feature. Each has a unique color. The yellow glows orange, the black glows green, and the blue glows turquoise.

Shop
Adaptability
Lochett has a variety storage uses such as in fitness, home renovation, recreation, industrial, and travel. Simply strap Lochett in a tight or relaxed fit around objects and attach to a metal surface, the magnets will do the rest. Keep your belongings in a safe position and within reach.
Buy now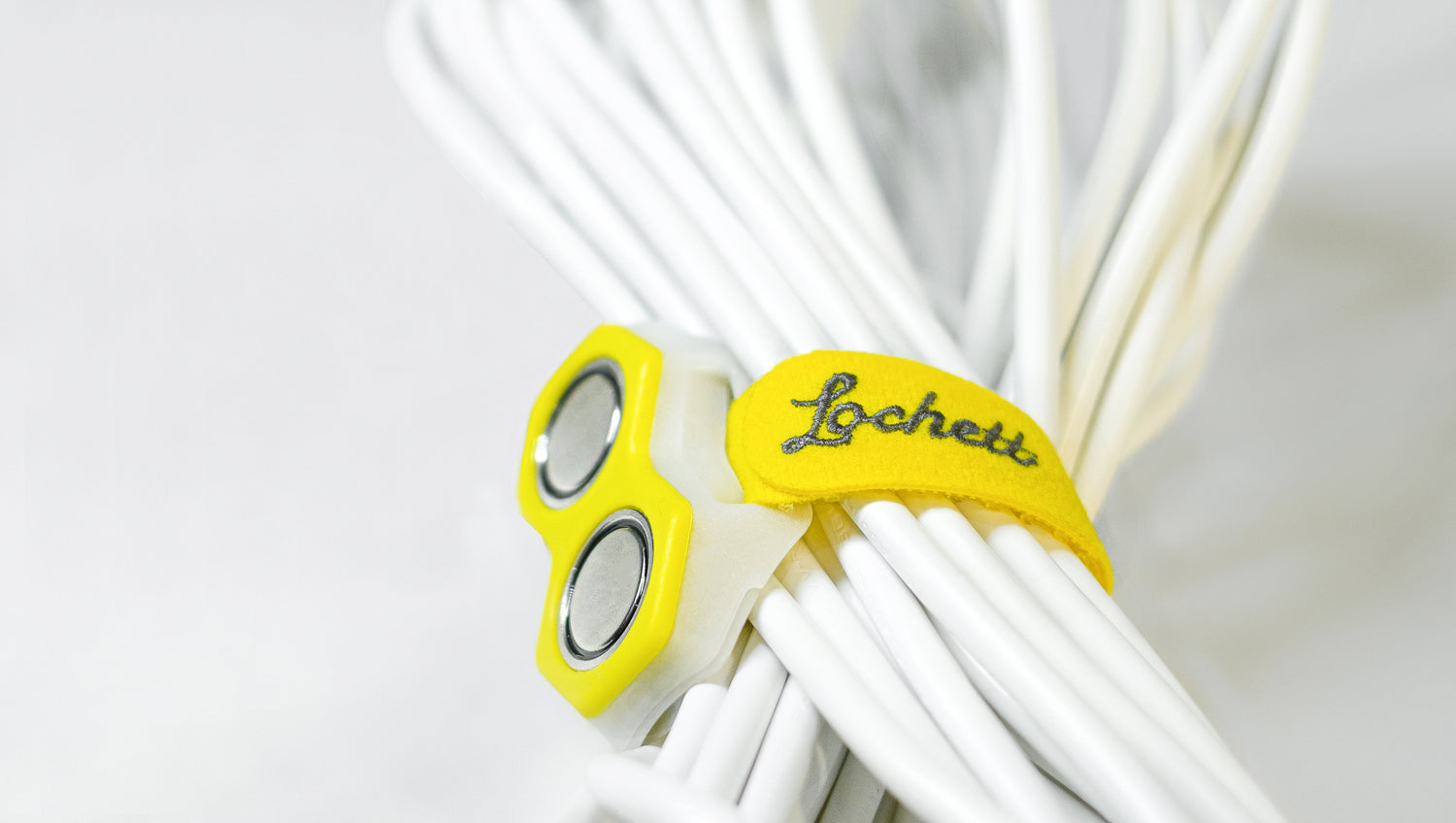 Organize & store
Areas with limited space provide the perfect setting for Lochett and Litl Lochett. They can be utilized to store items used frequently or occasionally. Your belongings on display and ready to use whatever the timeframe. A system of organization readily accessible and within reach. Lochett significantly increases storage capacity of metal shelves, benches, cabinets, and gym equipment, making available the entire object, not only designated spaces.    
Buy now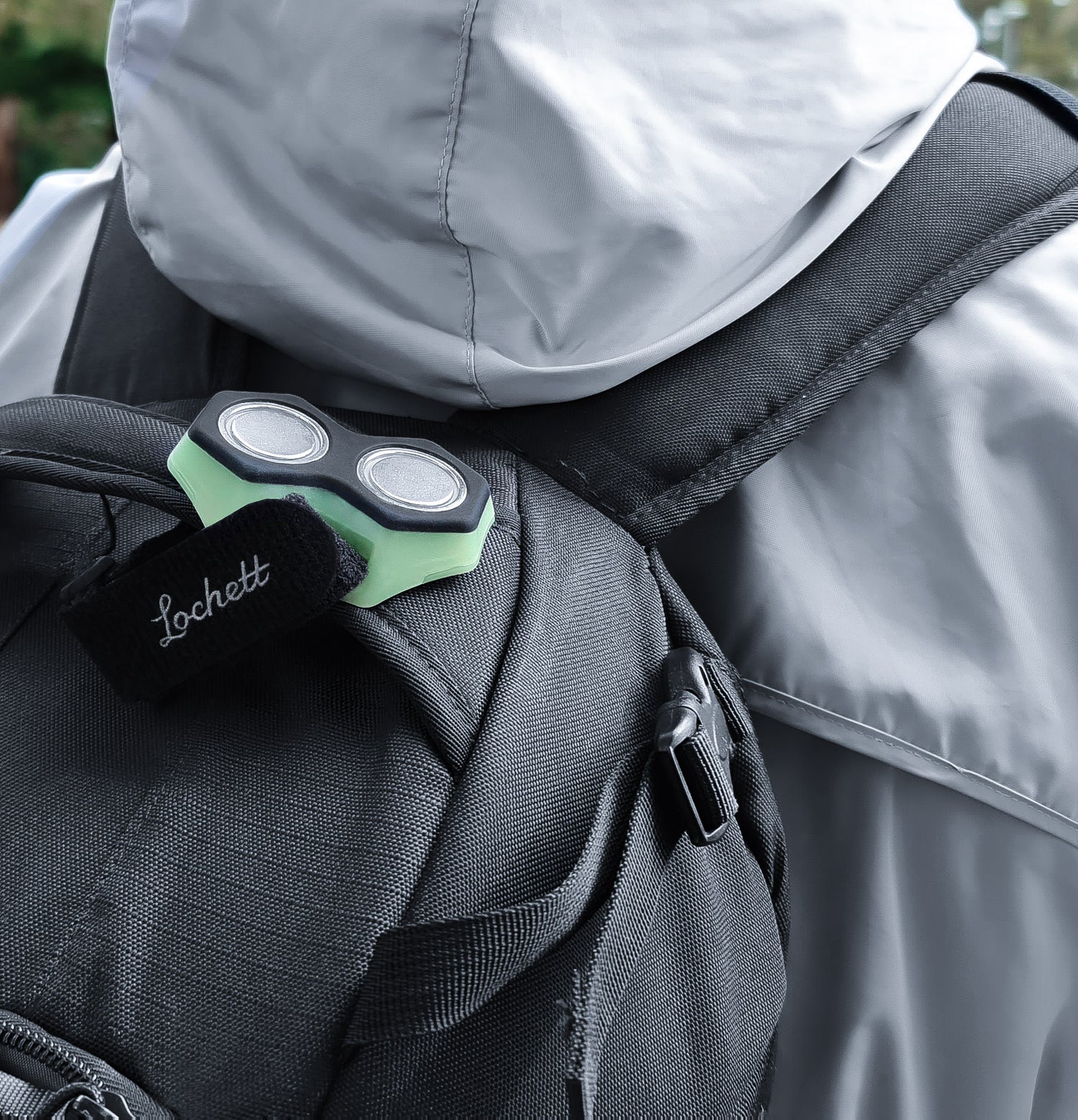 Design
Lochett features two incredibly powerful custom neodymium magnets, set in polyurethane and a rubber overmold. Its adjustable straps come in three adjustable sizes, made of double layered nylon fabric and non-slip silicone. Lochett's rubber front prevents damage to surfaces and slippage, while delivering impressive magnetic force. They also glow in the dark which makes use more entertaining.
Buy now
Lochett Sizes
Lochett comes in two sizes. Lochett is recommended to hold 4 kilograms and Litl Lochett 2 kilograms. Both sizes come with three hand made straps, so your Lochett's can fit a varitey of items. Both sizes glow in the dark and have an exceptional power to weight ratio.
Lochett Uses
Lochett and Litl Lochett can be used to hold and store bottles, bags, cords, tools, utensils, rope, appliances, and the list goes on. Versatility and portability are real benfits of this product. The products have been designed to outperform the recommended holding capacity for reliability. We recommend using Lochett for objects up to 4 kilograms and Litl Lochett up to 2 Kilograms for safety and practically.
Let customers speak for us